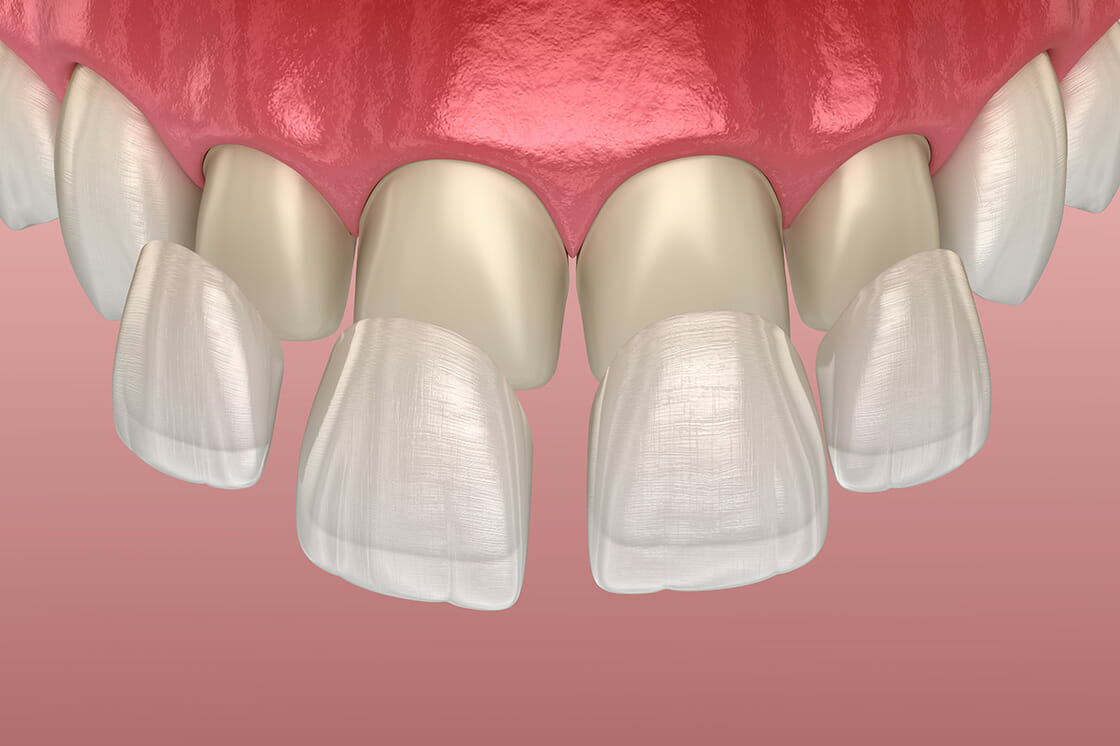 Veneers and bonding are treatments used to repair broken, chipped, or discolored teeth. These processes are slightly different, but both are available at Dr. Mays' office.
How are veneers and bonding different?
Dental veneers are made of a thin porcelain covering that bonds to the surface of your tooth. Veneers are a great option to fix common cosmetic issues, such as chipped teeth or discoloration. Once the veneer is secured to the tooth, it becomes a permanent part of your mouth. A veneer is a higher-end option; often referred to as a "Hollywood Smile." Bonding, on the other hand, is another method used to repair broken or decayed teeth that are past the point of a filling but aren't too damaged to require a crown. Bonding can repair chipped teeth, protect the nerve from a receding gum line, change the shape of a tooth, and can correct tooth discoloration. Bonding is a cost-effective method to improve the look and health of teeth.
How are veneers placed on my teeth?
First, Dr. Mays will prepare the surface of each tooth that will receive a veneer. This needs to be done in order to allow space for the veneer to be placed onto the tooth. Dr. Mays will then take an impression of your teeth to be sent to a lab where your veneers will be custom-made for your mouth. After your veneers return from the lab, Dr. Mays will begin the process of securing them to the front of your teeth. First, your tooth will be cleaned, polished, and etched, preparing it for the veneer. Etching into the surface of your tooth will roughen its surface, which will create a stronger bond. Then, Dr. Mays will apply dental cement to the surface of your tooth and will place the veneer. A final check will be completed to make sure that the veneer fits your smile, bite and matches the rest of your smile. Dr. Mays will make those adjustments for a beautiful result!
What is the dental bonding process?
Your mouth will be numbed, and the tooth receiving the bonding will be cleaned and any decay will be removed. Once the tooth is thoroughly cleaned and dry, the bonding will fill the space left behind by the decay, and will 'bond' the tooth back to its ideal shape, size, and color. Dr. Mays will shape the bonding so it matches the rest of your teeth. It will then be hardened and fill your tooth with a special blue light. Finally, Dr. Mays will shape the tooth to properly fit your smile and bite. 
How long do veneers and bonding last?
A porcelain veneer will last longer than the material used for bonding. With the proper care and consistent visits to Dr. Mays' office, veneers should last between ten and fifteen years. Bonding, a great, cost-effective alternative to a higher-end porcelain veneer, typically can last between 5 and 7 years. However, with proper care, you may be able to get a decade out of dental bonding. Also, bonding can easily be touched-up, as necessary, over the years, which can extend its wear. Dr. Mays will continually check your veneers and bonding to make sure they are in good shape! 
If you live in the Cincinnati area and think you may be a candidate for veneers or bonding or have any questions about either of these processes, contact us today!